Obesity Epidemic Is Changing Emergency Medical Transport
By JESSE LEAVENWORTH, leavenworth@courant.com The Hartford Courant
October 20, 2012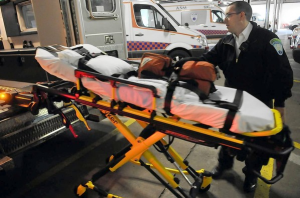 Emergency medical technicians have long shared a Murphy's Law kind of reckoning about obese patients: for every additional floor in a building, the patient will weigh 100 more pounds.
It's dark humor among men and women with an often grim, strenuous job, but obesity rates are rising throughout the state and nation, and a recently released report says the ranks of the morbidly obese will continue to balloon.
The task of transporting patients who weigh at least 100 pounds more than they should is now a daily reality in Connecticut and throughout the nation. The job strains ambulance crews, causing widespread back injuries, and piles financial burdens on both volunteer companies and professional providers.
"We've always had to deal with big people," said Glenn Luedtke,safety committee chairman of the National Association of Emergency Medical Technicians, "but nowadays, it's not uncommon to see someone who's 300 pounds into the 400-pound range."
Thirteen years ago, when he started as an EMT, encountering a 400-pound patient was unusual, Ambulance Service of Manchester spokesman Dave Skoczulek said. For ambulance providers everywhere, such patients are no longer a surprise.
ASM and its sister company, Aetna Ambulance Service, have responded to the trend with two vehicles designed to handle extra-heavy patients. The bariatric ambulances, which complete about 75 transports of morbidly obese patients each month, were equipped recently with new Stryker Power-LOAD stretcher lift systems. The devices cost $32,000 each and can lift patients who weigh up to 750 pounds.
The hydraulic systems are designed to get patients into and out of an ambulance with relative ease. Demonstrating the lift Thursday at ASM headquarters in Manchester, advanced EMT Brian Langan pressed a button to raise the stretcher into position behind the box-shaped ambulance. One finger, Langan said, replaces a minimum of four people necessary to lift a morbidly obese patient on a standard stretcher.