Yesterday evening long time Paramedic and Operations Supervisor Matt Martinelli represented Aetna Ambulance Service Inc. on Fox 61 news. In the interview, Martinelli provides insight on the CT "Move Over" law, and offers a few simple, yet important suggestions to the public. "It seems everyone is in a hurry to get somewhere," he said. "We just would like to b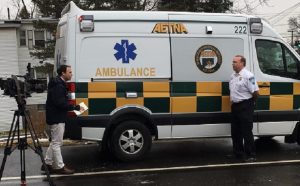 e able to get to the scene in a safe manner so we can provide proper care for a patient.
The article, posted by reporter Jim Altman, and interview can be found in its entirety by clicking the link below!
Emergency responders say drivers aren't paying enough attention to the "Move Over" Law