As part of an ongoing partnership, three Rockville Rams spent February 7, 2013 "learning by doing" by riding-along with EMTs from the Ambulance Service of Manchester. They learned first-hand whether a career in medicine, or specifically a career in Emergency Medical Services (EMS) is right for them. The following was excerpted from a thank you card: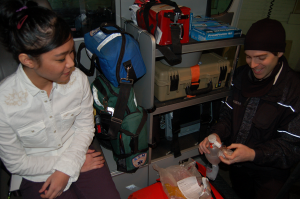 Dear Mike and Mike (Supervisors Sparks and Panciera):
I want to thank you so much for your time with me on my job shadow day. Sitting in the ambulance, being able to watch what you guys do, and seeing how you guys car for other people was amazing. You two are such caring and great people.

I would love to learn more and become an EMT. I think each and every EMT is great because they are the first line of defense in caring for someone's life. I wish the best to you guys.
Thanks again,
[Student T.P.]