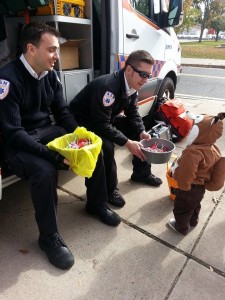 MANCHESTER — On October 26, 2013 Ambulance Service of Manchester Paramedic Rory Leslie and EMT Matt Tuttle set up an "Amb-boo-lance" near Pinewood Furniture as part of Downtown Manchester's Halloween Happenings.
Matt and Rory gave out treats to the trick-or-treaters making their way to each store and business taking part in the event on Main Street.
It was estimated that around 1000 children took part.