Click for the latest Hartford Courant article on the Food Drive…
First Weekend Totals:
Food Items     14,646
Cash               $6656
Turkeys               215
To Reach the Goals, the Second Weekend Must Total:
Food Items     25,000
Cash             $28,000
Turkeys            1,585
The food drive will take place on the following days and in the following Stop & Shop locations:
Vernon  (11-17 and 18): 10a-6p, 10 Pitkin Road, Vernon
Rockville (11-17 and 18): 10a-6p, 50 Windsorville Road, Rockville
Manchester (11-17 and 11-18): 10a-6p, 286 Broad St, Manchester
South Windsor (11-17 and 18): 10a-6p,1739 Ellington Road, South Windsor
Windsor (11-17 and 18): 10a-6p, 1095 Kennedy Road, Windsor
* The second weekend adds an additional town with its two locations.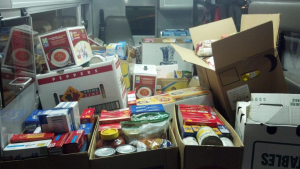 MANCHESTER — The "Emergency of Hunger" Food Drive, a team effort by police, fire, EMS and hospital providers in the participating towns, gets much in the way of support from area Rotary Clubs and Stop & Shop stores. Food, turkeys, cash and gift cards are collected at grocery store entrances by firefighters, police officers and Explorers, EMTs, Paramedics, doctors, nurses and more.
The drive started in Manchester and with the support of police, fire and EMS chiefs and hospital leadership has grown to four locations. Windsor is the newest town to enter the fray. They were excited and enthusiastic to take on the challenge. Windsor EMS has partnered with Windsor Fire and Police Departments and the Windsor-Windsor Locks Rotary Club to benefit the Town of Windsor Food Bank.
The hope is that, for folks, giving to this cause has become an annual tradition. The records for previous years were 1735 turkeys, 32,574 food and personal care items, and $33,305 in cash, checks and gift cards for those in need. In light of these totals, this year we are looking to bring in 1800 turkeys, 40,000 food and personal care items and $35,000 from all five locations combined.
This year's other goal is to make an all out push by accepting all donations from each town throughout the Food Drive time frame. If any schools, places of business, health care facilities, or other organizations want to collect food to add to the totals we are encouraging them to do so and will provide the support they need. They can contact the participating agencies in their town for details.