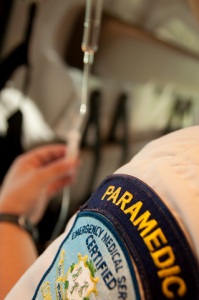 Why did the EMTs (ambulance) and Paramedics arrive separately?
EMTs are able to perform a specific set of skills that do not include such advanced treatments as IVs, EKG heart monitoring, IV medications, advanced airway techniques, nebulizers and more. Paramedics are required in the treatment of patients with chest pain, difficulty breathing, altered mental status, severe accidents and injuries and many other types of medical emergencies.
Simply put, when a 911 call is received that meets certain criteria, an EMT level ambulance (BLS) and a paramedic service (ALS) are dispatched simultaneously. Upon arrival, if the patient needs any of the treatment listed above, the paramedic will then ride aboard the local ambulance to deliver that care. If the patient's condition does not require a paramedic, they are sent away to be available for other calls. This is why you may see (or have seen) two ambulances at one emergency for one patient.
If you have more questions regarding this type of billing, please call our billing office during regular business hours of Monday-Friday 7am-5pm at (860) 647-9798.