HARTFORD – As of July 15th, 2019, Wayne Buckley has been cleared by Hartford Hospital medical control for independent dispatch as a paramedic to the towns that Aetna serves. Wayne started at Aetna in August of 2018. His preceptor was Paramedic Amanda Kneipfer. Wayne offered the following sentiment: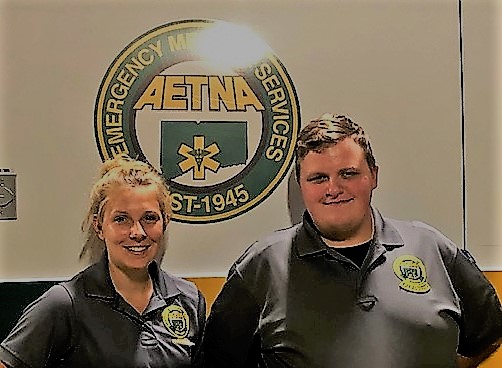 "My name is Wayne Buckley, I was originally hired part time as an EMT-B at Aetna Ambulance Service.  My roots began as an EMT with Rocky Hill Volunteer Ambulance Service where I spent a little over five years, as well as volunteering with Glastonbury's Service. I Graduated from Hartford Hospitals Paramedic Program and recently finished my precepting phase of my education under the tutelage of Paramedic Amanda Kneipfer. I have known Amanda since before my time at Aetna and felt as a preceptor she was knowledgeable and enthusiastic when it came to pulling the best medicine out of her students. I am truly fortunate to have had Amanda as my preceptor and am looking forward to working with the wide variety of people at Aetna Ambulance as well as serving the Community."
As with all precepting phases at Aetna, Wayne's final approval came from Hartford Hospital after shadowing him and his preceptor in the field as they responded to emergency calls. On behalf of the Aetna Family, we would like to wish Wayne the best of luck and say we are very proud to have such skilled professionals on staff.