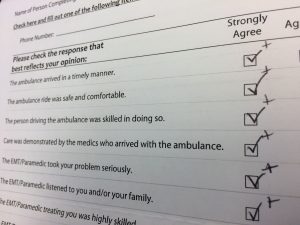 Praise for ASM's Todd Marshall and David Tedeschi
SOUTH WINDSOR — In late July ASM received a patient satisfaction survey response for a call done by Paramedic Todd Marshall and his EMT partner Dave Tedeschi in South Windsor.
As noted in the picture, the wife of the patient checked off Strongly Agree with a check-plus to 17 check boxes related to patient satisfaction within the survey; all that applied.
In the narrative section the patient's spouse shared some details of the care that her husband received. For the sake of privacy some of the information has been redacted in the following section.
She described the crew as "Extraordinary! Caring, Compassionate." She went on to say, "I have always received excellent care from ASM." She called them "very soothing and reassuring" and that their report to the hospital was beyond what she had experienced in the past and ensured the patient received a critical special accommodation.
She finished by saying, "they made a stressful situation a little bit better. They are a credit to your business. I am so happy to have met these two gentlemen."