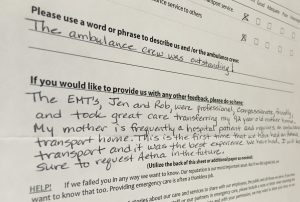 FARMINGTON – December 2016, EMTs Jennifer Grayson and Roberto Rizza received high praise recently from a patient's daughter following a transport to her home. Aetna Ambulance sends Patient Satisfaction Surveys to a randomly selected group of patients, allowing them the opportunity to provide feedback about their ambulance transport.  The last section of the survey allows the patient, or family member, to write about their experience.  In this section, the daughter boasts of professionalism, compassion and friendliness. She goes on to say, "it was the best experience we have had."
The full note reads:
The EMTs, Jen and Rob, were professional, compassionate, friendly, and took care of transferring my 92 year old mother home. My mother is frequently a hospital patient and requires an ambulance transport home. This is the first time that we have had an Aetna transport and it was the best experience we have had. I will be sure to request Aetna in the future.