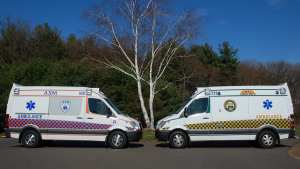 MANCHESTER and HARTFORD — Aetna Ambulance and ASM send Patient and Customer Satisfaction Surveys to a random sampling of patients who have received emergency or STAT inter-facility services from our companies.
The final part of the survey asks that the respondent, "Please use a word or phrase to describe us and/or the ambulance crew."
Some of the answers/responses included:
Friendly, knowledgeable, calming, attentive. I felt my son and I were safe with them and in good hands. (15-27515; E. Sheils, C. Masslon).
T. and R. were great. Very comforting. (15-35382; R. Gonska, T. Dixon).
They were great + kind.
The crew were very professional, and knew what they were doing.
Very friendly and informative, explained everything they were doing. (15-25385; V. Maston, J. Lentini).
Excellent.
Professional + caring.
Caring and professional.
Professional x 2.
Calm, friendly and clear without being condescending. They were great.
Very pleased.
The two paramedics were excellent!! My first trip (ever) in an ambulance so they were very helpful and reassuring. (15-36708; G. Geres, S. Boutot).
Professional + caring.
Can't imagine being cared for before I even got to the hospital. They were great!
Ambulance crew was great.
Caring and skilled.
Efficient + caring.
Skilled.
Very nice + professional.
Very professional.
Excellent and professional.
The ambulance crew was excellent and they did a great job. (15-39025; T. MacLean, B. McDonald with East Hartford Fire Department).
Very comforting and thoughtful – They did an excellent job. My first time in an ambulance. (15-37659; H. Mendes, R. Houser).
Excellent + caring. The service provided was professional and very well performed. Thanks to the paramedic who was wearing a Manchester Fire shirt. My grandfather was a past deputy chief and would be very happy with the service provided to his great grandson! (15-37893; Manchester Fire Rescue EMS with J. Bush, B. Delgaizo).