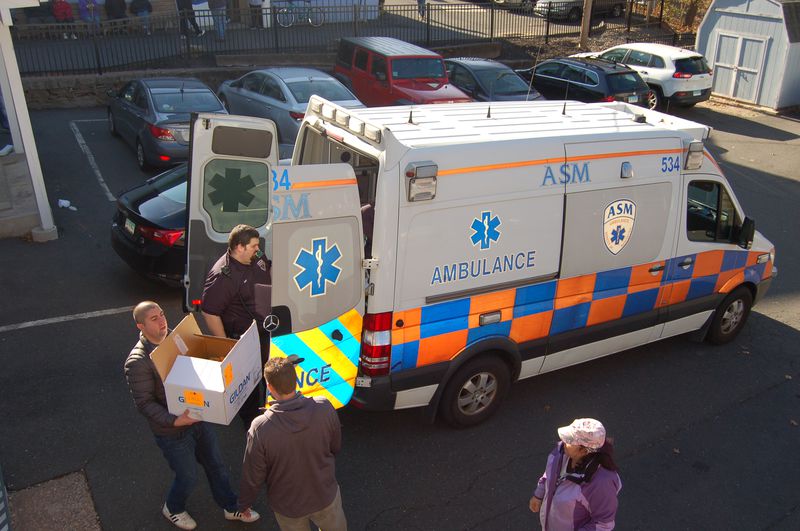 Manchester and South Windsor first responders to collect donated food
HARTFORD COURANT |
NOV 10, 2020 AT 5:57 PM
Volunteers with the Emergency of Hunger Food Drive unload donations from an ambulance at MACC Charities in Manchester. (Courtesy of Patrick Gleason/ASM)
MANCHESTER — Police, firefighters and ambulance crews will team up with other organizations for the Emergency of Hunger Food Drive benefiting food pantries in Manchester and South Windsor.
This weekend and next, volunteers will collect donated turkeys, nonperishable food items, gift cards and cash donations at supermarkets in both towns.
Organized by the Ambulance Service of Manchester, this is the 12th annual drive. All donations will go to Manchester Area Conference of Churches Charities, which runs a community kitchen and food pantry, and South Windsor Food and Fuel Bank, drive spokesman Patrick Gleason of ASM said Tuesday.
The collection is "very critical this year," MACC Charities Executive Director Beth Stafford said.
"Need is up and more and more 'new' families are looking for help with food, especially holiday meals," Stafford said.
The South Windsor Fuel and Food Bank is run through the town's human services department. The annual food drive stocks the pantry's shelves for the winter months, department Director Andrea Cofrancesco said.
The need for donations in South Windsor also has increased, in part due to the ongoing coronavirus pandemic, Cofrancesco said.
"We've seen people that we've never seen before. They're in a different situation now than they were," she said.
Partners in the effort include Manchester and South Windsor police and fire departments, Highland Park Market, Stop & Shop supermarkets, Geissler's Supermarket, Manchester Police Explorers, South Windsor Rotary Club and Harbor Chase at Evergreen Walk.
Collection places and times are: Highland Park Market, 317 Highland St., Manchester, Saturday and Sunday from 9 a.m. to 5 p.m.; Stop & Shop in Manchester, 318 West Middle Turnpike, Saturday and Sunday and Nov. 21 and 22 from 9 a.m. to 5 p.m.; Stop & Shop in South Windsor, 1739 Ellington Road, Nov. 21 and 22, from 9 a.m. to 4 p.m.; Geissler's Supermarket, South Windsor, 965 Sullivan Ave., Nov. 21 and 22, 9 a.m. to 4 p.m.
Jesse Leavenworth can be reached at jleavenworth@courant.com