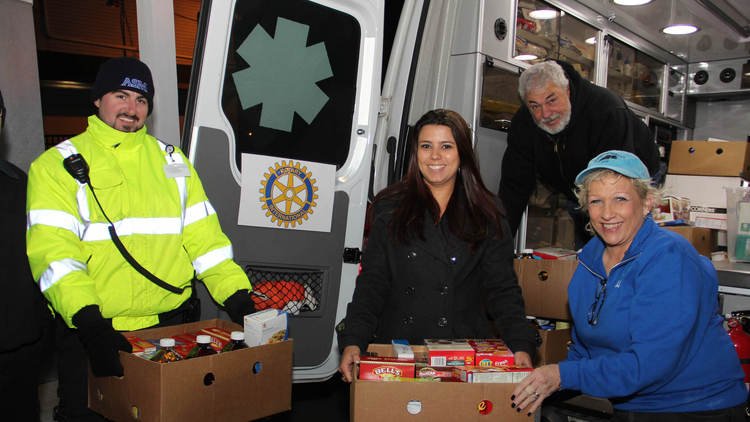 HARTFORD COURANT
Delivering donated food to the MACC Charities pantry recently are, left to right, Sean Gregg of Ambulance Service of Manchester, Rotary Club members Ana Ramos and Marty Fins and MACC Executive Director Beth Stafford. (Rick Lawrence).
By Jesse Leavenworth
NOVEMBER 25, 2014, 1:27 PM
Read the full, original article here…
The Emergency of Hunger drive collected nearly 40,000 food items, an outpouring of generosity that an organizer characterized as "excellent" and a good gauge of citizens' holiday spirit.
The regional collection by police, fire and emergency medical agencies and Rotary Club members benefits food pantries in Manchester, Vernon, South Windsor, Rocky Hill and Windsor.
Conducted over the past two weekends,the drive took in 39,956 food items, $23,839.80 in cash, checks and gift cards and 788 turkeys, organizer Dave Skoczulek of Ambulance Service of Manchester said Tuesday.
"It was an excellent year, once again surpassing our expectations," Skoczulek said.
Collections in each town go to pantries that serve those towns. The drive provides a big lift to pantry stocks, not just for the holidays, but sometimes extending into February, pantry
representatives said. Organizers said the need has not diminished since the first drive in 2009.
The drive's six ­year totals, which Skoczulek reported Tuesday, were 186,956 food items, $120,025.80 in cash, checks and gift cards and 5,498 turkeys.