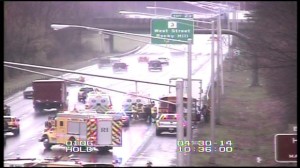 By DAVID OWENS, The Hartford Courant
12:09 p.m. EDT, April 30, 2014
ROCKY HILL — Four people with minor injuries were taken by ambulance to area hospitals after an accident involving a school bus on northbound I-91 in Rocky Hill Wednesday morning.
Three children aboard the bus complained of pain.
Several ambulances were dispatched to the crash, near exit 23.
Ambulance Service of Manchester and Aetna Ambulance Service crews transported three children to Connecticut Children's Medical Center and one adult to Hartford Hospital.
The bus was carrying sixth graders from East Haven's Joseph Melillo Middle School to the Connecticut Science Center, school officials said.
State police were investigating. The crash was reported at 9:51 a.m.