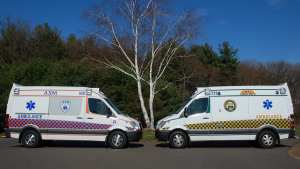 MANCHESTER and HARTFORD — Aetna Ambulance and ASM send Patient and Customer Satisfaction Surveys to a random sampling of patients who have received emergency or STAT inter-facility services from our companies.
The final question in the survey asks "Do you have any suggestions on how we can improve our service?" And, "Please use one word to describe us."
Some of the answers/responses included:
My husband and I would like to thank Paramedics for saving our daughter's life. Thank you for coming to our house very quickly and taking care of our [daughter]. Truly appreciated! (15-15010; T. Salva, J. Basora).
Caring and adept!
Compassionate.
Caring people.
Crew was very focused and professional. I thank the crew for their speedy response since time is of the essence with heart related patients. (15-23386; M. Levasseur, M. Khan).
Competent and professional.
Sensitive – caring.
Professional x 3.
My ambulance crew was very caring and attentive. (15-23802; M. Tuttle, N. Raiola).
Satisfied.
Excellent. [Patient] has been transported several times this year and the family is very pleased with the service provided by all. (Patient lives in East Hartford).
Excellent. I am fortunate to live in Manchester with such great EMS.
Caring, polite and professional. (15-22679; T. Oliver, S. DeBarge with East Hartford Fire Department).
"Excellent"
Calm – reassuring.
Very nice. Talked about family.
Very Good.
Professional, caring.
Tech riding in the back with me was VERY nice + professional. (15-24803; A. Harkins).
Life saving.
Very kind. Very handsome! 🙂 Made sure I was comfortable. M + N took great care of me! (15-24193; M. Tuttle, N. Raiola).
Good ride. Crew was excellent. Very enjoyable.
Efficient.
Very professional.
One of the best professionals at their services. (15-26017; P. Gleason, S. Gregg).