MANCHESTER — On June 25th, 2018 one Dispatcher, one Paramedic and four EMTs were added to the ASM team. As part of our continued growth, Aetna and ASM seek out only the best candidates. We look for employees who are focused on high-quality patient care, are team oriented and conduct themselves in a professional manner. During the orientation, employees learn about company philosophy and goals, quality assurance, and policies and procedures.
---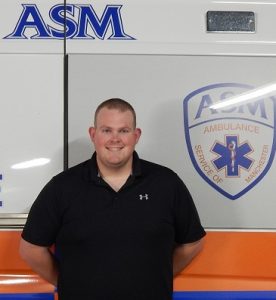 Jonathan Robarge: FULL TIME, PARAMEDIC. My name is Jonathan Robarge. I am 25 years old. I have been working in commercial EMS for 3 years as an EMT. I attended Capitol Community College to get my paramedic license for the last 18 months. During ride time, I spent a majority of my hours at ASM and was impressed with the feedback and teamwork of the crews I worked with. I am excited to grow as a paramedic in this company. In my off time, I enjoy hiking, mountain biking, traveling and boating with my wife and 9 month old yellow lab Epi.
---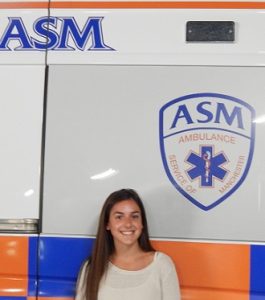 Megan Stevenson: FULL TIME, EMT. My name is Megan and I am 22 years old. I am an East Hartford resident and I am pursuing a bachelor's degree in Allied Health Sciences at the University of Connecticut. I am an active volunteer for the town of Glastonbury EMS and am eager to begin more work with ASM. I plan to graduate from UConn in the spring of 2019 and continue to work and gain experience in the medical field. Following my undergraduate degree, I hope to attend graduate school to pursue a career as a Physician's Assistant.
---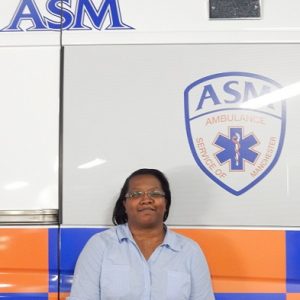 Carolyn Edwards: FULL TIME, DISPATCHER. Hi my name is Carolyn Edwards, former full time EMT @ ASM for 5 years (03/2009-11/2014), currently joining the dispatch crew. Took a few general studies classes @ MCC. Interested in learning & getting back to action in the EMS field. Forever immensely grateful for all that has been done for me during my time away from EMS & for all of my teachers (EMS colleagues & coworkers, medical field professionals, professors & patients) that helped me arrive at the humbling truth of how much I had to learn & just how much I didn't know. I look forward to learning dispatch & many more great times.
---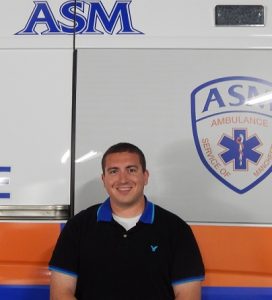 Chris Melite: FULL TIME, EMT. Hi! My name is Chris Melite and I am 27 years old. I grew up in the small town of Canton, CT and moved to Vernon, CT two years ago. I received my EMT-B certification from Code One early this year. I am an active member of the Town of Vernon Fire Department as a volunteer Firefighter/EMT. I graduated in 2014 from the University of New Haven with my bachelor's degree.
In my free time I enjoy working out, hiking, camping, and SCUBA diving. I am very excited to pursue a career with the ASM team, and the opportunities that it presents.
---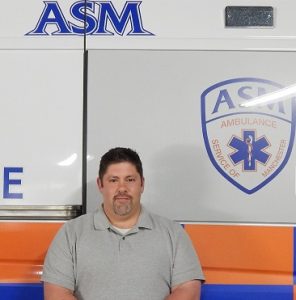 Greg Cataford: FULL TIME, EMT. Hello, my name is Greg Cataford. I have spent many years working in the service industry. Over the past year, I have been transitioning my focus and passions into the EMS field after completing my EMT certification through New Britain EMS Academy. I have been a full time volunteer at Glastonbury EMS during this time.
I aspire to obtain my paramedic license in the next two years.  I am looking forward to growing personally and professionally during my time at ASM.