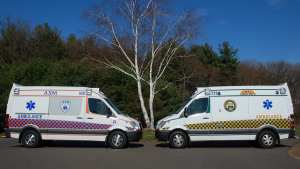 MANCHESTER and HARTFORD — Aetna Ambulance and ASM send Patient and Customer Satisfaction Surveys to a random sampling of patients who have received emergency or STAT inter-facility services from our companies.
The final question in the survey asks "Do you have any suggestions on how we can improve our service?" And, "Please use one word to describe us."
Some of the answers/responses included:
Excellent x 2.
Nice – fast.
Good.
Evan who rode in back with was extremely personable and attentive and definitely put me at ease. (14-81370; E. Burgess, K. Baker).
Efficient.
Very Good.
Knowledgeable and caring.
Prompt and professional.
Caring + professional. The ambulance staff treated me well.
Professional and caring.
Very understanding and put me at ease. (14-83557; M. Osborne, J. Rasmussen).
Very polite.
Calm and professional.
Outstanding.
Mr. Grady would be proud! (14-84300; G. Kendall, T. Dixon).
Very effective, efficient service.
Amazingly professional and outstanding. I have used ASM SEVERAL times and each time I have had an amazing experience of my family has had a fantastic experience. They always ease by anxiety and make me feel safe as I have seizure disorder and have used them often. ASM is the ONLY ambulance service myself and my family use. Outstanding job to everyone! Thank you so much. I can't say it enough. (14-81534; G. Geres, M. Sparks).
Very good.
Great.
Acted like they should.
Very highly skilled – Showed concern.
Everything was fine no complaints. After I pressed the button you were here in no time – very good service.
Professional x 2.
Friendly.
Caring for others, act[ed] with urgency to situation.