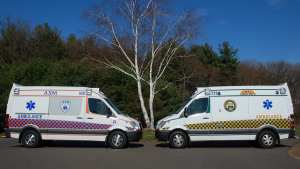 MANCHESTER and HARTFORD — Aetna Ambulance and ASM send Patient and Customer Satisfaction Surveys to a random sampling of patients who have received emergency or STAT inter-facility services from our companies.
The final part of the survey asks that the respondent, "Please use a word or phrase to describe us and/or the ambulance crew."
Some of the answers/responses included:
They were calm + professional which was greatly appreciated + were careful driving knowing I was following behind them (patient's spouse).
Excellent.
Pleasant, professional, concerned + understanding. (15-96431; J. Rassmussen, J. Bak).
Very professional.
The ambulance crew were very kind people. (16-79; J. Pearson, K. Stewart).
Very interested in patient; lighthearted and comforting. I felt very safe with the paramedics, they were all so friendly and really calmed me down despite the situation. Great Job Everyone! J (16-369; M. Karr, B. Sullivan).
I think your [staff] was excellent.
Very professional and took good care of me. The ambulance crew had a calming effect on me which made me feel I was in the right place. (16-3446; M. Mosebach, J. Pearson).
The crew was very professional.
All were very thorough, nice and seemed to know exactly what they needed to do. All showed concern. Thank you! (16-2103; M. Carter, T. Webster).
Professional and compassionate.
They were wonderful.
Completely professional, care for my wife as well as me. Very happy with all of them. Wonderful people!
Very professional.
Professional! Competent! Outstanding! I would like to acknowledge the hard work that your team does and their ability to put people at ease in crisis and their superb care. Please thank them on my behalf. (16-1718; T. Oliver, K. King).
Pleased with the ambulance crew.
Kind and caring to everyone involved.
Professional.
Overall service was great. Team arrived in a timely manner.
Fabulous.
Calm, skilled & professional. Very impressed with the EMT's skills and calm mannerisms. They explained every step, in such a professional way, helped me stay calm + focused as I was bleeding + traumatized. Thank you!! (16-4267; R. Davenport, M. Guertin with Manchester Fire Rescue EMS).