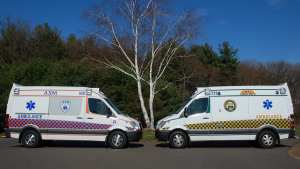 MANCHESTER and HARTFORD — Aetna Ambulance and ASM send Patient and Customer Satisfaction Surveys to a random sampling of patients who have received emergency or STAT inter-facility services from our companies.
The final part of the survey asks that the respondent, "Please use a word or phrase to describe us and/or the ambulance crew."
Some of the answers/responses included:
Fast response, great guys! Kept us calm. (15-48312; A. Fine, M. Sparks).
I was terrified but they eased my fears. Very friendly. (15-46567; C. Cabral, T. Paulasantos).
The ambulance crew was excellent and went above and beyond duty to make me comfortable and relaxed. The crew members were absolutely wonderful. (15-41591; Manchester Fire Rescue EMS w/ R. McConville, A. Sarles).
Compassionate.
Professional and kind.
Incredibly fast – they arrived 2 minutes into my phone call with 911.
Service was very good + professional.
Everyone was awesome.
Can't say enough about the two that came to us. (15-48409; F. Tomboly, R. Berwick).
My wife + I appreciate your service.
Professional x 2.
The [EMS Providers] were the BEST, EXCELLENT SERVICE. (15-48479; H. Marshall, C. Tevnan).
No words could describe their help.
Thanks! Great at keeping me calm.
I experienced a first time hemiplegic migraine (transient paralysis on one side). Incredibly frightening but the symptoms had resolved before the ambulance arrived…they were so pleasant enroute, keeping me talking and my mind off the issue. Thank you so much to both of the guys. (15-48781; V. Maston, C. LaChance).
Caring.
Professional and caring.
Professional – kind – caring.