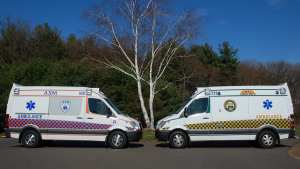 MANCHESTER and HARTFORD — Aetna Ambulance and ASM send Patient and Customer Satisfaction Surveys to a random sampling of patients who have received emergency or STAT inter-facility services from our companies.
The final part of the survey asks that the respondent, "Please use a word or phrase to describe us and/or the ambulance crew."
Some of the answers/responses included:
Excellent care was given!
Very highly skilled. (15-91275; R. O'Neil, T. Luetjen).
Excellent.
Outstanding!!
Your ambulance crews are above reproach. There are not enough words to praise them! Excellent is the best I can say! (15-89364; R. Balkun, D. Rice).
We cannot fully express our gratitude to you both for the wonderful care you provided to [Patient] in Ellington on [date]. We fully realize that your competent and professional actions helped save his life. On behalf of ourselves, as well as our children and grandchildren, we wish you a very Merry Christmas and thank you for making our holidays especially meaningful this year. (15-87177; shared directly with ASM medic crew with Ellington Volunteer Ambulance Corps).
Very professional and timely.
Comforting, Compassionate, Courteous. (15-92498; R. McConville, H. DiGirolamo).
Fantastic.
The two members of the crew were phenomenal with my mother and I. They were compassionate, caring, yet focused and professional. My mother was treated so well, considering she was so nervous and worried. They let me go with them in the ambulance and talked to me about her issues, explained everything and continued to do so once inside the ER. True professionals yet their care and concern was above board for myself also. Wonderful team. Sadly, my mom passed away in the hospital…I know she would have wanted to thank them both personally for their care that night. (15-88514; J. Pasquale, K. Mathiau).
Job well done.
Efficient + caring.
Very professional + the best.
Very professional.
Excellent
L and R were the EMTs for my mother when she went to the hospital and Doctor for medical visits. They were excellent and gave my mother very good treatment. They were very professional and helpful to me and my mother. Thank you for employing such good EMTs. (16-685, L. Cashman, R. Houser).