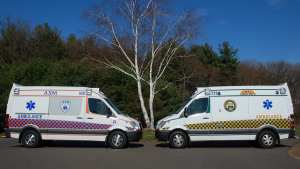 MANCHESTER and HARTFORD — Aetna Ambulance and ASM send Patient and Customer Satisfaction Surveys to a random sampling of patients who have received emergency or STAT inter-facility services from our companies.
The final question in the survey asks "Do you have any suggestions on how we can improve our service?" And, "Please use one word to describe us."
Some of the answers/responses included:
Top shelf.
Very professional and compassionate.
Excellent!
Professionals.
Professional. They got me there alive!
Very professional. The staff is without a doubt, top notch.
Exceptional.
Caring.
Very professional, very kind, sympathetic. They did their very best at keeping my anxiety level down. They did a great job. This was my first call for help in this nature and I can't say enough on how well I was treated. Thank you so much. (14-38217; B. Mathiau, J. Bush).
Caring and efficient.
Outstanding!
Caring.
Excellent. They were very professional. Couldn't have been better. (14-38987; R. Fraley, R. Leslie).
Personable and very knowledgeable.
Ok.
Great.
The [EMS Providers] were knowledgeable, good communicators, kind and professional. It was a positive experience for a difficult situation. (14-39676; M. Levasseur, R. Fross responding with Coventry Volunteer Fire Association).
Very caring, knowledgeable and professional.
Wonderful!
Efficient, kind. Thank you so much for your help…Thanks to you, I'm on my way to a satisfactory recovery.
Very professional.