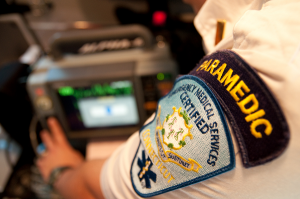 HARTFORD — During March 2015, ASM Paramedic Ted Oliver and his partner David Rice responded to a medical call in Somers with Somers Fire Department ambulance. The EKG was indicative of a STEMI and Ted wirelessly transmitted the 12-lead EKG to Saint Francis Hospital, activating their cardiac catherization lab from the field. (#15-21457)
"Another great job by our ASM partners and this time with Somers Fire. The bar has been raised now with measuring the time from first medical contact to device in the Cath Lab and this requires a strong team effort to meet the new benchmark. Rapid identification and notification are critical elements to success."
         – John Quinlavin, EMS Manager, Saint Francis Hospital and Medical Center.
SFH Cath Lab Patient Follow-Up Form
100% occlusion of the posterior left anterior descending artery.

90% occlusion of the ramus artery (a division of the left main coronary artery)

100% occlusion of the first through third obtuse marginal arteries

80% RCA ejection fraction < 20%. IABP placed. No PCI – CABG performed.
Treatment by EMS and Direct to SFH ED
EMS Agency: ASM  (run # 21457) (Somers FD Ambulance transported)
Indication: STEMI
 First Medical Contact (FMC) (at pt side)            15:05          elapse:  00:00
 EMS 12 Lead Acquisition Time:                         15:10          elapse: 00:05
EMS 12 Lead Transmit Rec'd Time:                    15:22          elapse: 00:12
Arrival Time (SFHED):                                         15:56          elapse: 00:34
 Cath Lab Arrival Time (SFH):                             16:14          elapse: 00:18
 Procedure Start Time:                                         16:17          elapse: 00:03
SFHED Door to First Device:          to start proc.                 21 min
FMC to First Device:                        to start proc                  72 min