HARTFORD COURANT
by Jesse Leavenworth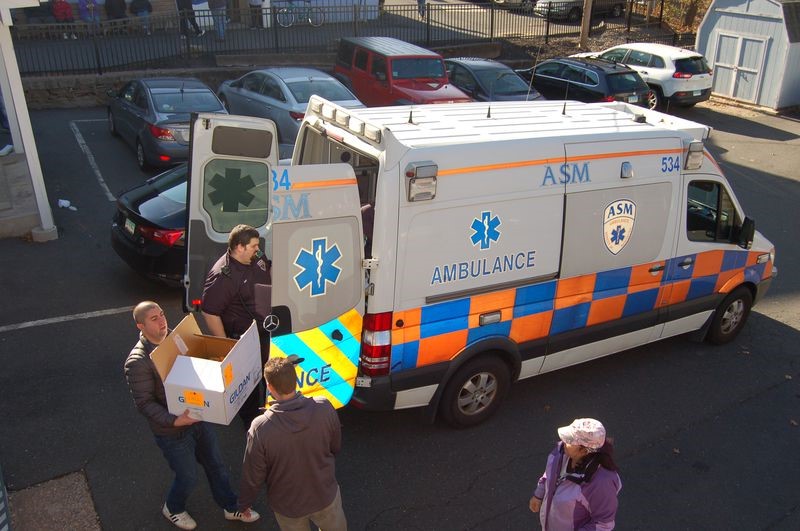 Volunteers with the Emergency of Hunger Food Drive unload donations from an ambulance at MACC Charities in Manchester. (Courtesy of Patrick Gleason/ASM)
Organizers of the Emergency of Hunger food drive gathered ample donations of food and cash over the past two weekends at area supermarkets.
Police officers, firefighters, ambulance crews and other volunteers collected 645 turkeys, 21,334 food items and $31,003 in cash, food drive spokesman Patrick Gleason of Ambulance Service of Manchester said.
Collections were made at supermarkets in Manchester, Vernon and South Windsor. All donations are to benefit food pantries in the participating towns.
This was the 11th year of the drive. In 2009, when the effort was focused only on Manchester, a total of $2,405.78 in cash and checks and 155 turkeys were collected, along with an unspecified number of nonperishable food items. The total value of food and monetary donations was $14,265.78, an organizer said.
Participants this year included Manchester, South Windsor and Vernon police officers and firefighters and representatives of Manchester Police Explorers, Ambulance Service of Manchester, South Windsor Rotary Club, Highland Park Market, Stop & Shop supermarkets, Geissler's supermarket in South Windsor, Manchester Area Conference of Churches Charities, South Windsor Food & Fuel Bank and Hockanum Valley Community Council.
Jesse Leavenworth can be reached at jleavenworth@courant.com