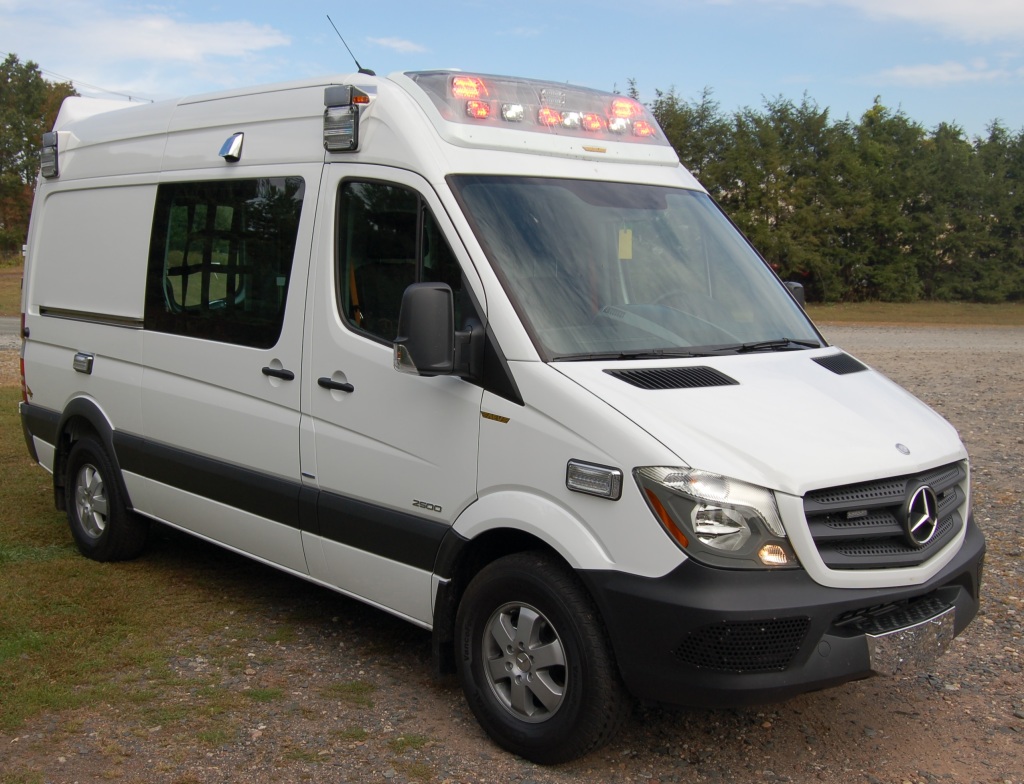 MANCHESTER — On September 26, 2014 the first 2014 Mercedes Sprinter Ambulance arrived at Aetna's fleet maintenance area at ASM from American Emergency Vehicles in North Carolina.
According to Car and Driver magazine, "The Sprinter's most visible change is its front-end styling, which adopts Mercedes' smaller, Renault-based, Euro-only Citan van's flashier look. The grille is more upright than before, and gets Benz's latest take on its signature three-slat design. A new pair of headlights flanks the grille, and features the same eyebrow-like (LED!) turn indicators that have proliferated throughout the Mercedes lineup. A fresh hood accommodates the new fascia and headlights, and it sits higher than before. Inside, there are new seat covers and upholstery, the steering wheel is thicker, and higher-spec models even get chrome air vent surrounds."
The most distinctive change thus far for the 2014 ambulance model is the new style light bar.
As of April 2014, all Ford ambulances (except for the bariatric units) had been rotated out of service and replaced with Mercedes (or Dodge-marked Mercedes) Sprinter ambulances. The unmarked 2014 ambulance will soon be sent out to receive the high-visibility Battenburg markings, rear chevrons and company logos. Operating fuel-efficient, safe and modern Sprinter ambulances is part of Aetna and ASM's continued commitment to the communities we serve.