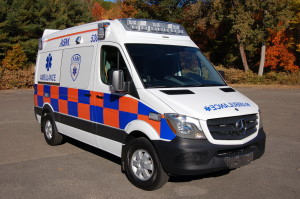 MANCHESTER — In October 2015 the newest version of ASM's livery, decals and markings were on display on new additions to the fleet, awaiting state inspection.
The Mercedes Sprinter Ambulances utilized by Aetna and ASM are products of American Emergency Vehicles in North Carolina. The previously blank ambulances received high-visibility Battenburg markings, rear chevrons and company logos which are now completely produced and applied in-house.
The newest Sprinters have updated front-end styling including headlight, hood, grille and turn signal changes as well as a radical change in the emergency signal LED light bar. Operating fuel-efficient, safe and modern Sprinter ambulances is part of Aetna and ASM's continued commitment to the communities we serve.