MANCHESTER — On July 24th, 2017, two Paramedics and six EMT's were added to the ASM team. As part of our continued growth, Aetna and ASM seek out only the best candidates. We look for employees who are focused on high-quality patient care, are team oriented and conduct themselves in a professional manner. During the orientation, employees learn about company philosophy and goals, quality assurance, and policies and procedures.
---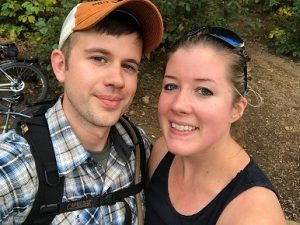 Christopher Myska: FULL TIME, PARAMEDIC. My name is Chris and I am 27. I went to medic school at Capital Community College. I have been interested in patient care since watching MASH as a kid. I am a Flight Medic with the US Air Force Reserves and have been since 2010.
I am newly married and spend most of my free time outside with my wife and my dog Ellie. I have spent the last 4 years working for Connecticut Children's Medical Center as an ER Tech.
---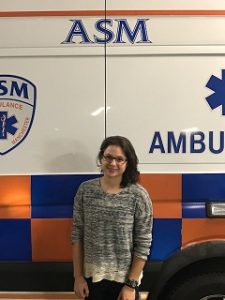 Nicole Niwinski: FULL TIME, EMT. Hello my name is Nicole Niwinski and I am 24 years old. I have my Associates from Manchester Community College and have been working for the last few years an Associate Manager of a window covering company. I took my EMT course with Glastonbury EMS in 2016 and have been very excited about it since then. My goal is to continue in the field of EMS, and become a paramedic. I train martial arts, and enjoy rock-climbing and hiking.
---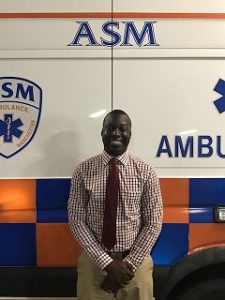 Gabner Alcime: FULL TIME, PARAMEDIC. Hello my name is Gabner L. Alcime. I am originally from Miami, FL but I've lived in Port Charlotte, FL for all of my teenage and adult life. I received my EMT Certification in May of 2006, and my Paramedic Certification in 2012, as well as, my Associate in Science. I spent ten years serving as EMT/Paramedic for Lee County EMS, FL. My younger brother is also a Paramedic with the same company and two of my cousins are EMT's there as well. I served as an AHA instructor for both Lee County EMS and at the same college, received my schooling. I also served as a Lab Instructor at the college for the EMT program. I'm really grateful for all the opportunities the EMS field has provided me over the years. I recently obtained my NREMT-P when I decided to relocate with my family to Windsor, CT where my wife is from. In the future, I plan to get my Bachelor's Degree, and become a filed training preceptor.  Aside from EMS, I am also a Wedding DJ, and enjoy being active in the gym and playing sports. Looking forward to being part of the ASM team.
---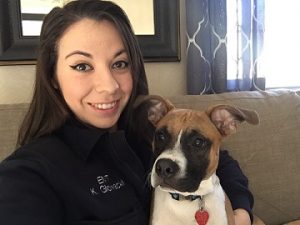 Kristi Glowacki: FULL TIME, EMT. My name is Kristi Glowacki and I have been an EMT for just over 2 years. In that time, I have helped to instruct EMT students, teach communities looking to learn CPR, and volunteered as an EMT for the City of Bloomfield. Before accepting a position with ASM, I also worked in an Emergency Room as a Tech. Being in an ER teaches you how to work fast and think quickly. However, not every patient or call is an emergency. Some just need to know that you're listening and care. It's for the same reason that in my spare time I'm teaching my rescue dog, Alpha, to be a therapy dog. If you ever want to talk to someone who is dog crazy you've found the right person!
---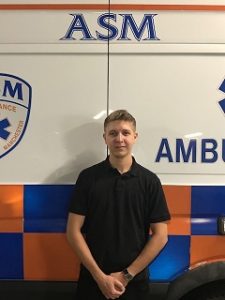 Patrick Zimny: FULL TIME, EMT. My name is Patrick Zimny. I am 22 years old and from East Hampton, CT. I'm a student at Manchester Community College working towards a degree in Criminal Justice. I received my EMT-B certification at the end of 2016 and later joined the Manchester Fire Department 8th District as a volunteer. In my free time I enjoy the outdoors, running, reading, and spending time with my nephews and niece. I am grateful for the opportunity to work for ASM and to further my career as a first responder. I look forward to joining the team!
---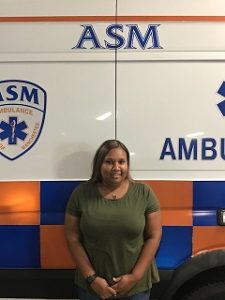 Racquel Vaughn: FULL TIME, EMT. My name is Racquel Vaughn and I am 28 years old.  I am from East Hartford, CT. I took my EMT class at New Britain EMS Academy in New Britain, CT. I completed the course in the winter of 2016 and began volunteering for the town of Newington, CT for about 1 year. My goal is to go back to school and become a paramedic after gaining some more experience. I am so happy to be joining the ASM team and looking forward to learning and helping the community.
---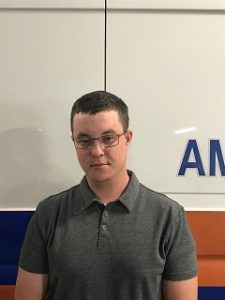 Cody Desilets: FULL TIME, EMT. Hi my name is Cody Desilets. I'm 21 and from Windham, CT. I've been a volunteer firefighter in Windham for about 6 years now in which I obtained my EMT and held it for the past 4 years. In my free time, I enjoy the outdoors like fishing, hiking and kayaking.
---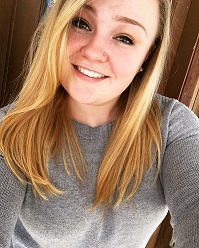 Erica Clayton: FULL TIME, EMT. My name is Erica Clayton. I am 22 years old and a recent graduate of Western New England University with a B.S. in Health Sciences and minors in Chemistry and Psychology.  During my schooling, I shadowed and worked with a Physician's Assistant in the Rockville and Manchester emergency rooms acquiring approximately 250 hours of experience. That time helped me to fall in love with emergency medicine. This lead me to the decision to obtain my EMT certification while in my senior year of college.
My future goal is to become a Physician's Assistant working in pediatric emergency medicine.  I am very excited and thankful for the opportunity to work at ASM and cannot wait for the journey that is to come.