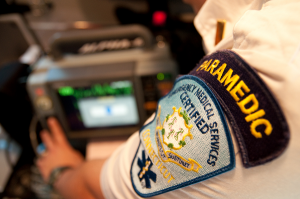 HARTFORD — During April 2015, ASM Paramedic Supervisor Matt Tuttle and his EMT partner, Supervisor Mike Sparks, responded to a medical call in South Windsor. The EKG was indicative of a STEMI and Matt wirelessly transmitted the 12-lead EKG to Saint Francis Hospital, activating their cardiac catherization lab from the field. (#15-24713).
"Nice job, Matt. Thanks for calling early."
         – John Quinlavin, EMS Manager, Saint Francis Hospital and Medical Center.
Additionally the patient returned a Satisfaction Survey with every one of the 21 boxes checked Strongly Agree or Excellent. In a follow-up phone call he said that Matt should be commended, that he was "absolutely fantastic", caring and took the time to explain everything as it was happening. Further, he said, "I have nothing but good things to say about your service."
Vessel Angiography Findings/Treatment:  100% thrombotic occlusion of Distal RCA; hypotensive, required Dopamine, ejection fraction 55%.
Comments: onset 20 min PTA dispatched 0822; EKG transmitted on scene to ED & med control contacted prior to departure; left scene @ 0840 (South Windsor location)- in ED pt remained on EMS stretcher then to cath lab.
SFH Cath Lab Patient Follow-Up Form
EMS Agency: ASM 
Indication: STEMI
First Medical Contact (FMC) (at pt side) Time:  08:28           elapse:  00:00
EMS 12 Lead Acquisition Time:                          08:32           elapse: 00:04
EMS STEMI Alert Request Time (source: cmed):      prior to dept.       elapse: 00:01
EMS 12 Lead Transmit Rec'd Time:                  08:36           elapse: 00:04
Arrival Time (SFHED):                                        09:01           elapse: 00:25
Cath Lab Arrival Time (SFH):                             09:17           elapse: 00:16
Procedure Start Time:                                         09:26           elapse: 00:09
First Device Time:                                                09:33           elapse: 00:07
————————————————————————————————————–
SFHED Door to First Device:                                                 32 min     
FMC to First Device:                                                              65 min