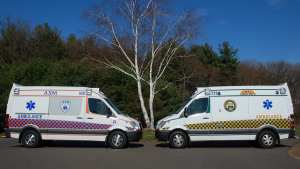 MANCHESTER and HARTFORD — Aetna Ambulance and ASM send Patient and Customer Satisfaction Surveys to a random sampling of patients who have received emergency or STAT inter-facility services from our companies.
The final part of the survey asks that the respondent, "Please use a word or phrase to describe us and/or the ambulance crew."
Some of the answers/responses included:
Efficient + reassuring.
Human.
Very empathetic and caring team! Paramedics kept me calm with their humor and they worked together and were serious when they needed to be serious. Stayed and talked to me in hospital, very comforting. (16-6983; R. Buechele, M. Sparks).
Terrific.
Quick and professional.
Professional. Your ambulance crew was very knowledgeable, professional and well trained. They also maintained an extremely clean and organized ambulance. (16-8400; J. Rasmussen, R. Fross).
I thought your people were professional and knowledgeable.
Confident. My husband had a stroke – they were very respectful of his privacy + comfort. He doesn't remember much but does say they were very good to him.
Efficient, professional and caring.
Excellent!
Thank you for great care.
B was very good. She is an asset to your service. (16-11184; B. Sheils).
Very professional and comforting.
Excellent.
Aetna was awesome, and in the past, has been incredible. I appreciate all you guys do. (16-8095; J. Platero, B. Gregorieff).
Professional x 2.
Glad they came quickly. Thank you.
Very professional.
Professional and personable and efficient.
Awesome.
Worked well as a team. Team leader S. directed crew well. Experienced. He seemed to have lot of experience dealing with my child's condition. (16-13253; S. Lowe with Rocky Hill Volunteer Ambulance).
Caring and professional.
I appreciate the professional way they did their work. Well trained. Thank you. (16-13234; J. Rodriguez, J. Tyree).
Excellent care.