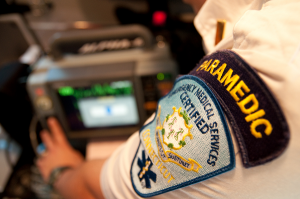 FARMINGTON — On October 21, 2013 a Paramedic Unit from Aetna Ambulance (David Noyes and Kelly Shapiro) responded to a sixty-two year old patient with a significant cardiac history, who had been having chest pain for an hour. They did a 12-lead ECG, which revealed a massive inferior infarction. They called in a STEMI Alert to the John Dempsey Hospital ED. Based on their radio patch, Dr. Sasha Gorenbeyn immediately activated the cath lab (16 minutes before patient arrival).
The patient received a heparin bolus in the ED, and then went right up to the cath lab on the EMS stretcher. The patient was found to have a 100% occluded SVG (saphenous vein graft) to the PDA (posterior descending branch). He underwent a successful thrombectomy and stenting restoring perfusion.
He is doing very well thanks to the great job by the combined EMS/Hospital STEMI Team. Kudos also to the staffs of the ICU and cardiac step down for their outstanding re-covery care. 41 Minute Door-to-Balloon time! The patient was discharged home yesterday doing very well. "Thanks again, and extend our compliments to your crew for a job well done."
*Individually identifiable protected health information has been removed in accordance with Aetna's HIPAA-related Privacy Policies.