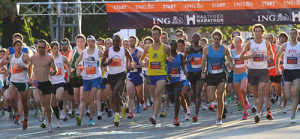 The following combines two letters sent to Aetna and ASM under separate cover.
I wanted to thank you and Aetna Ambulance/Ambulance Service of Manchester for the assistance and hard work put in for the ING Hartford Marathon, which was held on October 12, 2013.
As you know, Mike Bova, Matt Martinelli and Chris Bates were instrumental in the planning for, and the operations on, marathon day. The success of the medical plan was, in a large part, because of Aetna/ASM's involvement from the beginning.
Beth Shluger, the Executive Director of the Hartford Marathon Foundation stated that this was the best prepared race she has ever had. Aetna/ASM deserves a share of that compliment. Since the bombing of the Boston Marathon this Spring, we were intent that we would not be caught unprepared should a similar event happen here. Aetna/ASM's commitment of resources and staff was greatly appreciated.
Please pass along my thanks to all of the crew members who stood by and responded in East Hartford, South Windsor, and elsewhere along the course and in the command post. They worked hard and were a credit to Aetna/ASM.
I look forward to the opportunity to work with Aetna/ASM on future projects.
Thanks again,
Michael Zacchera, NREMT-P
EMS Educator
Department of EMS Education
Hartford Hospital