Tag Archives:
Polina Yakushchenko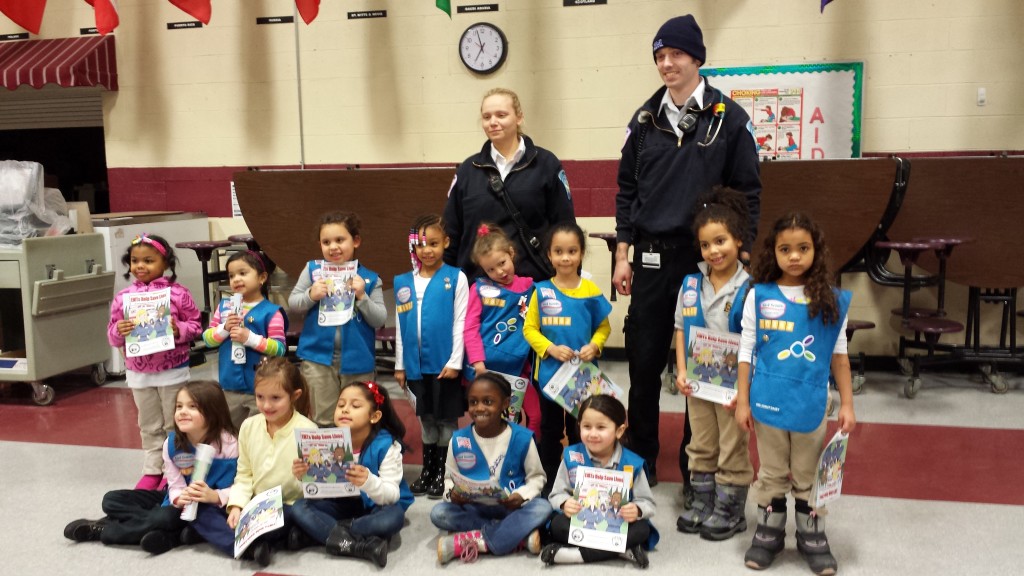 EAST HARTFORD — On February 6th, ASM's Polina Yakushchenko and Jacob Truebig visited Girls Scout Daisy Troop 10862 during a troop meeting.
"Thanks for sending the ambulance yesterday to our Girls Scout Daisy Troop 10862. The girls enjoyed going inside the ambulance and getting the coloring books.  I asked Jacob to explain about the stethoscope and I think that was one of the favorite part for many girls. Thanks so much again for sending them I know winter is kind of crazy with emergency calls." – Troop Leader Barbara Valdes
MANCHESTER — On October 14, 2013, four EMTs were added to the ASM team. As part of our continued growth ASM and Aetna seek out only the best candidates. We look for employees who are focused on high-quality patient care, are team oriented and conduct themselves in a professional manner. During the orientation, employees learn about company philosophy and goals, quality assurance, and policies and procedures.
Kyle Baker:    Full time, EMT. Hello my name Is Kyle Baker. I am 22 years old and live in Hebron, CT. I graduated in May of 2013 with a Bachelor's Degree in Politics from Saint Anselm College in Manchester, NH. The second semester of my freshman year of college I took an EMT-Basic class and almost instantly I fell in love.  I began working Saint Anselm College EMS, a student run volunteer EMS unit that serves the campus community, shortly after finishing my class. I also began volunteering with Andover Fire Department in Andover, Connecticut. I worked with Saint Anselm EMS until graduation and I continue to actively volunteer with Andover Fire Department.  EMS has been my passion for the last four years and I am very fortunate to have the opportunity to turn it into a career.  In my spare I enjoy listening to music, golfing and enjoying the outdoors. I am incredibly excited to begin my new adventure with the Ambulance Service of Manchester and I look forward to the new experiences I will have and the new people I will meet.
Evan Burgess:    Full Time, EMT. My name is Evan Burgess and I am 21 years old. I was born and raised in Manchester, CT and graduated Manchester High School in 2010. I attended the University of Connecticut for two years and then transferred to Liberty University in Lynchburg, VA to study Biblical Studies. Currently I am finishing my senior year of college online via Liberty University. I came home this year to finish school and get an EMT job. This summer I completed my EMT-B certification class at Hartford Hospital. I am very much involved in my church's activities at Trinity Covenant Church and I enjoy ministering to people there. I love to play the guitar and I am a huge Philadelphia Eagles fan. My brother Colin worked for ASM for a couple years before he headed off to medical school, and he inspired me to become an EMT. I hope to gain experience working with patients and helping them and their families during tough situations. I hope to become a missionary someday, and the experience I gain and learn from this career will aid me in my future endeavors. I am very excited to begin working and learning how to care for people in need.
Polina Yakushchenko:   Full Time, EMT. My name is Polina Yakushchenko and I am 23 years old. I was born in the Ukraine and moved to the United States in 2000. I now live in Vernon, CT. I recently graduated with a Bachelor in Health Science from Saint Francis University in Pennsylvania.  I have had some patient care experience in college working at the student health center along with the local hospitals. One day I hope to go to grad school and continue my education in the medical field. I love to travel and experience new places and cultures. I am very happy to begin working for ASM and I look forward to serving the community.