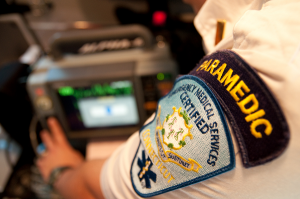 SOMERS — During June 2016, ASM Paramedic Billy Schnepp and his partner Bill Gorman responded to a medical call in Somers, CT. The patient had a witnessed cardiac arrest, was defibrillated by Somers Fire Department prior to ASM's arrival. The patient had a return of spontaneous circulation (ROSC) from Somers FD efforts and was being loaded into their ambulance.
The patient became slowly able to follow commands and answer questions in the ambulance and responded to care consistent with protocol. The EKG was indicative of a STEMI and Billy wirelessly transmitted the 12-lead EKG to [Hospital], activating their cardiac catherization lab from the field. (#16-43800). Early intervention, teamwork and technology all in play to improve outcomes.

Excellent job by Somers Fire Department in their aggressive, accurate and appropriate care. Great job by Billy and Bill on deploying wireless STEMI transmission. This is a strong example of teamwork among ASM and our partners. ASM is proud to work alongside Somers Fire Department.