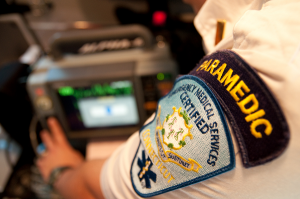 HARTFORD — During August 2014, ASM Paramedic Rachel Buechele and her partner Stephanie Boutot responded to a medical call in one of the towns ASM serves. The first EKG was indicative of a STEMI and Rachel wirelessly transmitted the 12-lead EKG to Saint Francis Hospital, activating their cardiac catherization lab from the field. (#14-73447)
"An incredible job by EMS with efficient recognition, treatment and early notification. St Francis Hospital and Medical Center is excited about the partnership we have with the ASM and Aetna staff. We are grateful for the teamwork displayed toward improving care for our STEMI patients, as well as others."            – John Quinlavin, EMS Manager, Saint Francis Hospital and Medical Center.
Comments: Cath showed 100% Mid RCA Lesion which was opened and stented.