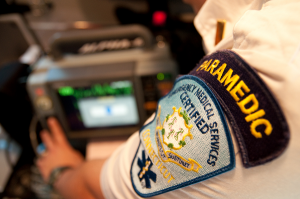 HARTFORD — During August 2014, Aetna Paramedic Matthew Carter and his partner Kathryn Stewart, wirelessly transmitted a 12-lead EKG to Saint Francis Hospital, activating their cardiac catherization lab from the field.
"Another great job by your staff!! "            – John Quinlavin, EMS Manager, Saint Francis Hospital and Medical Center.
Cath showed 100% LAD Lesion which was opened and stented.
STEMI Transmission 
ED Arrival
18:34
Sat
EKG Complete
18:37
Cath Lab Paged
18:17
Cath start
19:09
First PCI Time
19:17
Door to Balloon Time
            43 Min
Mode of Arrival
EMS
Other
EMS STEMI Alert
Cath Lab Activated
EMS Agency
Aetna
Lifenet @ 18:13
Yes