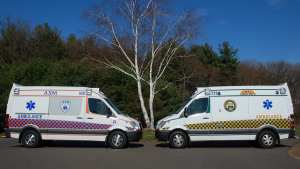 MANCHESTER and HARTFORD — Aetna Ambulance and ASM send Patient and Customer Satisfaction Surveys to a random sampling of patients who have received emergency or STAT inter-facility services from our companies.
The final part of the survey asks that the respondent, "Please use a word or phrase to describe us and/or the ambulance crew."
Some of the most recent answers and responses provided in the survey responses include the following quotes:
They were great. Kind, professional and caring. (16-43478; T. LaChappelle, A. Linardo).
Very courteous.
Professional!
Very nice paramedics! They showed concern. Provided great care. (16-41861; J. Traber, T. Armas)
I was very nervous, their kindness + comfort were so appreciated. Wonderful people – Super job done. (16-44248; R. Jones, M. Pierce).
They showed concern, asked appropriate questions, checked on my comfort.
Professional. M + R did an excellent job. Thank you! (16-44752; M. Tuttle, R. Fraley).
Awesome.
Relaxed, calm, pleasant.
Courteous + Efficient.
Fantastic response.
They were helpful, fast, caring & professional. J Thank you for all the help. (16-44293; A. Debisschop, A. Hernandez).
Very courteous + highly efficient.
Very professional.
R + R were terrific. Their assessment + care were very professional. They made sure I was safe + secure right into the ER room. We were very pleased with all that R + R did. (16-45368; R. Bilodeau, R. Fross).
Very friendly.
They were very professional + caring individuals through my entire situation. (16-39950; E. Snoek, R. Bochman).
Professional, compassionate & well trained. The entire crew was great. They were calm and kept me calm and comforted. (16-40155; J. Rasmussen, S. Yenco with East Hartford Fire Department).
Wonderful – Outstanding.
Professional, seemed very well trained.