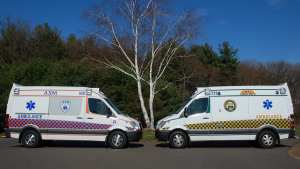 MANCHESTER and HARTFORD — Aetna Ambulance and ASM send Patient and Customer Satisfaction Surveys to a random sampling of patients who have received emergency or STAT inter-facility services from our companies.
The final part of the survey asks that the respondent, "Please use a word or phrase to describe us and/or the ambulance crew."
Some of the most recent answers and responses provided in the survey responses include the following quotes:
Efficient and friendly.
Very caring and efficient.
Positive, gentle, kind, ie wonderful! (16-22822; T. Wallace, J. Craig).
Professional, courteous.
They moved quickly and met all my needs.
Caring.
Excellence!!
Kind, caring, very capable and professional. (16-23554; R. Balkun, A. Cichy).
Everyone seemed to know exactly what to do.
Very good.
Polite + caring.
Polite, courteous, knowledgeable, friendly, reassuring + just wonderful! Did their job perfectly. (16-23731; S. Crittenden, J. Bush).
Experienced, empathetic, skilled, resourceful + professional.
Excellent care.
Very good.
Professional.
Very comforting. I felt safe putting myself in their hands to deal with my injury. (16-22905; R. O'Neil, B. Langan).
The EMT was exceptional; both caring and concerned. They locked my house, got my cell and keys. True professionals. (16-26161; J. Lentini, J. Startup with Manchester Fire Rescue EMS).
Safe and consider. Went the extra mile.
Good job. Keep up the good work you do.
Saviors.
Excellent.
Great stuff.
Professional and caring people. I loved the treatment and kindness they showed me. (16-28797; S. Gregg, A. Hernandez).
Professional + calming.
Very kind + put me at ease.
Everyone courteous and professional at my home.
Outstanding and caring.
Caring, kind and respectful. (16-23168; M. Osborne, M. Uddin).