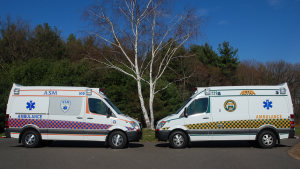 MANCHESTER and HARTFORD — Aetna Ambulance and ASM send Patient and Customer Satisfaction Surveys to a random sampling of patients who have received emergency or STAT inter-facility services from our companies.
The final question in the survey asks "Do you have any suggestions on how we can improve our service?" And, "Please use one word to describe us."
Some of the answers/responses included:
Excellent personnel.
Excellent.
Professional x 4.
Very professional.
The best.
Good.
Great.
Efficient x 2.
Caring.
Excellent. I called approximately 10 times in the past year. I believe the ambulance staff has saved my life each time. Now they know where my extra key is and they use it when I cannot get to the door. Thank you all!
Terrific.
Keep doing everything you are doing as your company seems to have the key to running a successful business down pat. Great job. (13-29357).
Thoughtful.
Reliable.
Fantastic.